Sync your Outlook Calendar using AkrutoSync
Are you looking for a way to sync Outlook calendar with Android as well as Outlook Contacts, Tasks and Notes? AkrutoSync may be the option for you. AkrutoSync is Windows PC software that offers direct two-way Outlook to Android sync between your Outlook calendar on a Windows PC laptop or desktop and your Android's built-in calendar app. Unlike other sync software, Akruto does not install another calendar app on your smart phone, using up valuable space. AkrutoSync offers a simple, easy way to sync Android with Outlook and simplify your life!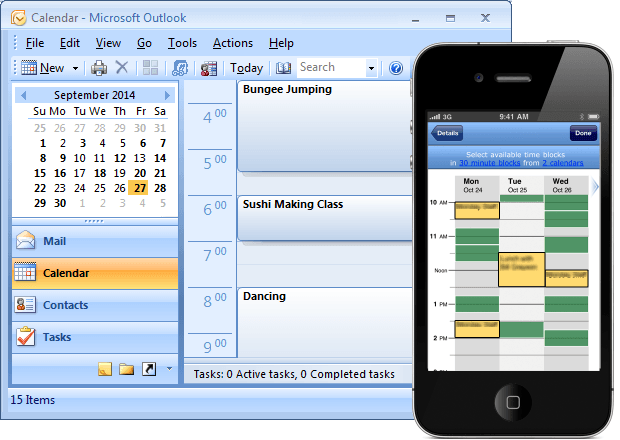 AkrutoSync is a complete calendar sync software solution that never releases information to the cloud. You can synchronize either over a Wi-Fi network (does not use data plan) or mobile network (uses data plan). In either case, your phone or tablet directly connects to your computer over a secure, encrypted connection without going through the cloud.
Have other non-Android devices? Akruto also syncs with iPhone, iPod Touch, iPad, Windows Phone and Windows tablets. One AkrutoSync license allows you to sync with unlimited compatible devices.
What AkrutoSync can do to sync Outlook Calendar with Android
Akruto syncs all past, current and future events between Outlook and your Android. Your phone will show standard, all-day and recurring appointments exactly as you have them in your Microsoft Outlook calendar.
Akruto even accurately syncs recurring appointments with exceptions like changes in appointment length or time of appointment. For example, an appointment occurs every Tuesday and Thursday at 10 am — except Thursday, January 15, and Tuesday, May 6 — these appointments appear on your Windows PC, Android and any other connected devices.
Akruto also transfers all notes and reminders within your appointments. You won't need to copy any of the notes or set the alarm in multiple places. Other sync apps can lose reminders on other devices, drop exceptions or convert recurring appointments into a single appointment.
Using Outlook calendar sync with multiple devices
Because this is a two-way synchronization solution, everything will stay in sync whether you update your Outlook for PC calendar, one device's built-in calendar, a second device's built-in calendar, or a combination of the three. Any changes you make on your PC appear in all your devices' calendars.
For example, if you sync Samsung Galaxy S5 with Outlook and add a new iPad through AkrutoSync, then all appointments along with their notes and reminders show up in both. Should you add an exception or a new appointment in your Samsung Galaxy S5, it shows up on Microsoft Outlook for PC and your iPad.
A better Samsung Kies alternative
If you use Samsung Galaxy S4 or any other Samsung device and need a Kies alternative, you can use AkrutoSync to sync Outlook calendar with Samsung Galaxy. AkrutoSync is more accurate, reliable, automatic and private.
You can even try AkrutoSync free for seven days to see how you like it. The trial includes the full version of the software so you can get a complete idea of what it can do for you. If you want help installing it, contact our 24/7 tech support team and they will be happy to help.
FAQ
Q: Can I sync Outlook calendar and my Android phone with all past events I have in my Outlook 2013?
A: Yes, AkrutoSync can transfer all current and past events from any version of Outlook with any Android smartphone currently available on the market.
Q: What's the fastest way to sync Outlook calendar with Android contacts app?
A: The fastest way to do that is syncing via Wi-Fi network. Even if you have lots of Calendar data, syncing process will take only few minutes.
Q: Can I replace Smart Switch with Akruto for syncing Outlook calendar?
A: Yes, AkrutoSync is one of the best alternatives for Smart Switch and Kies. Our software syncs data two-way and doesn't store anything on the Cloud.
Q: Can I sync Outlook calendar with more than one Android device at the same time?
A: AkrutoSync supports syncing calendar data with the unlimited number of connected devices. That means you can share Outlook calendar with Android phone and Android tablet at the same time.
Q: Is there any limit on the amount of calendar data I can transfer during the trial period?
A: No, there are no such limits. You can sync any amount of data and connect any number of Android devices during the 7-day trial.
Learn more about sync Android with Outlook
Here are more resources on how to sync Android with Outlook: